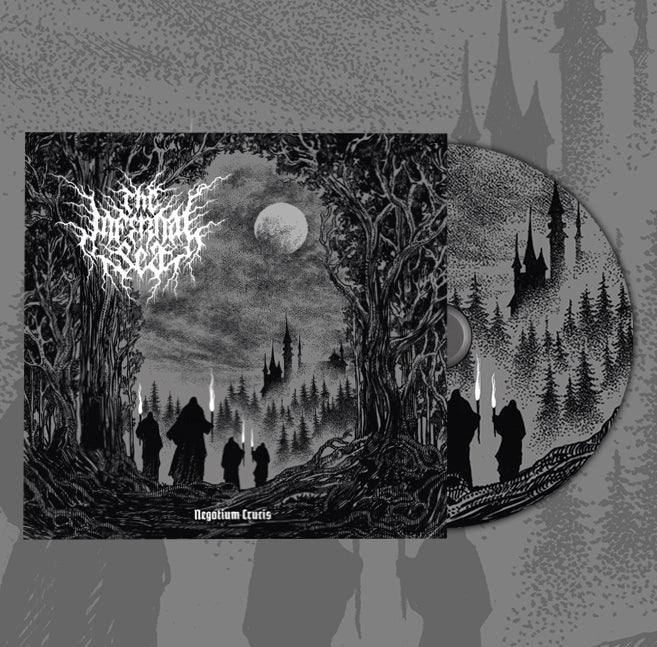 The Infernal Sea - 'Negotium Crucis' - Digipack CD
'Negotium Crucis' - Digipack CD.

Digipack CD with lyric sheet insert and exclusive bonus track 'Into the Unknown', a re-recorded version of the classic track released on 'The Crypt Sessions' in 2013. Each order comes with a FREE sticker

TRACK LISTING:
1. Destruction of Shum
2. Befallen Order
3. God Wills It
4. Field of the Burned
5. Devoid of Fear
6. Negotium Crucis
7. Unholy Crusade
8. Rex Mundi

ALBUM BIO:
New album 'Negotium Crucis' released 18th September 2020 via Apocalyptic Witchcraft expands on the Medieval concept brutally established on 2016's 'The Great Mortality'.

Lyrically returning to the Middle Ages to explore the dark nature of the Knight Templar and their Holy Crusades. The album aggressively forces you on a journey of depravity, corruption, deceit, genocide and re-affirms the sadistic nature of mankind.

An experimental album that bridges the gap between 'The Great Mortality' and 'Agents of Satan' EP. It showcases the progression and maturity of The Infernal Sea. This album is RAW, not only sonically but also production value wise. It captures the 'Black 'N' Roll' element that the band inject into their compositions, it is savage yet melodic and sounds undeniably like The Infernal Sea.


***PLEASE NOTE***
This is a Pre-Order, all orders will ship the week commencing 18th September 2020. Due to the ongoing pandemic situation there may be a slight delay in receiving your item.
---
---
More from this collection